Rings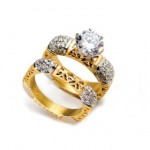 Whether for an engagement or wedding, to celebrate an anniversary or just for the joy of being fashionable, Hardy's is the perfect destination to find a ring beyond compare.
Naturally, our collection always includes engagement and wedding rings. You will find traditional as well as contemporary designs to choose from with a variety of diamonds to oblige both settings and budget. Some rings are available as matched sets and single bands are plentiful.
Of course, not every ring is bought to celebrate the heart's attraction. Sometimes you want the style and sizzle that comes with putting together the perfect look… your look. Again, Hardy's has showroom selections from the very casual to the most sophisticated starting from a few hundred dollars.