Necklaces and Brooches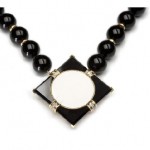 Necklaces can take many forms. Go contemporary with a shimmering neckwire and pendant. Or go traditional with a spectacular multi-gem or elegant gold chain. And, of course, the classic good looks of a cultured pearl necklace will never go out of style. Whichever genre you choose, be prepared for the compliments to follow as each necklace we present will capture the urbanity and dash you have come to expect from Hardy's.
We have a decades long relationship with Neissing, a German company that creates jewelry with such precision and grace that they defy comparison.  Niessing will delight you with the versatility and range of their designs.  Mix and match to your heart's content to get the exact look you prefer or go with a single medallion that the simplicity of "one" always attracts.
If pearls are a favorite of yours, prepare for a banquet. South Sea, Tahitian and Keshi are but of the few of the varieties we usually have available. We travel the Orient to secure the exotic and rare, as we are as particular as you. We continue to string our own pearls as a quality assurance to our customers.
Visit us today. You'll be impressed by our variety.