Jewelry Design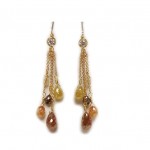 Can you imagine that some jewelers' idea of custom design is ordering from a manufacturer's catalogue? Do you consider that "custom"?
At Hardy's we actually design jewelry. That means we take the time to listen to our clients and their desires. We then illustrate and present the design for review and refinement. Imagination and talent are required to make it original.
For five generations we've rewarded our clients with the truly personalized experience of custom jewelry design.
Perhaps the time has come to express your individually. There's no place more original than Hardy's for that.