Estate Jewelry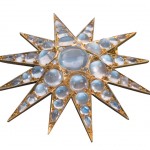 With our 160 year history, it's no wonder Hardy's has a fascination with estate and antique jewelry. Our selections, while unpredictable, are always outstanding. Early 1800s and Victorian-era earrings have graced our display cases in recent months, as have some remarkable art deco period pieces. Particularly distinctive hand-crafted rings and necklaces as recent as the 60s have also passed our watchful eye.
Hardy's on occasion will display jewelry from our Private Collection. While not for sale and more fitting for a museum than a jewelry store, you will marvel at both the design and craftsmanship… a reminder that quality and good taste never go out of style.
Our appreciation and knowledge of antique jewelry has made us the preferred choice for estate appraisals. From a single ring to a lifetime of jewelry acquisitions, we work with families and attorneys to determine accurate and precise evaluations for both disposition and insurance. Often tedious and time consuming, we prepare fastidious appraisals that are the exemplar of fair and honest valuations.
Do you have questions about the particular worth of an item of jewelry? We are pleased to assist.